The advantages of the Sand Cannon
Reduce the sand stock and high purchase costs of sand
Re-use of clean and dry sand
High re-use percentage of sand (85% to 98%)
Low energy consumption
Fully automated and remotely controllable system
Possibilities to combine sand bedding with a biogas installation

Mavasol's unique sand separation system is suitable for sand washing and dewatering of sand. Our systems promote sustainability in the agricultural sector.

Daritech's proven technology is suitable for sustainable sand and manure processing in the agricultural sector. Sand is filtered from slurry directly from the stables, allowing it to be recycled within weeks. Sand washing can save an enormous amount of CO2 and costs in livestock farming.
What are the advantages of sand as bedding?
Sand as bedding has many advantages for the cow. Sand provides comfort, so cows spend a longer time in the barn. Sand provides more grip on the stable floor, which reduces injuries and it does not support bacterial growth. Sand is also readily available and by reusing the sand it is an inexpensive bedding material.

However, sand does cause wear when it ends up in the manure processing equipment. It also takes extra time to fill and manage the stables. If no sand separation system is installed, the manure storage must be emptied regularly, this takes time and is often a lot of work. Sand bedding in stables has been used for more than 30 years and is becoming increasingly popular. This is due to the advantages of the innovative machines and systems. By installing a sand separation system, the manure is separated from the sand, so that the sand does not end up in the manure processing equipment and thus prevents wear.

A sand separation system can be built into an existing location. By reusing pumps and existing pits, a large part of the installation and construction costs can be saved. Due to the great savings of reusing sand, a sand recovery installation pays for itself in most cases within 4-5 years.

How the system works
A sand separation system can be installed both indoors and outdoors on the site. When you use sand bedding in the stables, you want to separate the manure and the sand from each other as quickly as possible.

PHASE 1: The slurry is pushed out of the stables and collected in a manure pit and is then pumped to the Sand Cannon. Then recycled water is added so that the Sand Cannon is fed with a balanced mix of manure, sand and water.
PHASE 2: From the water, manure and sand mixture, the Sand Cannon ensures that the sand is filtered and deposited at the end of the cylinder. The fine sand is led through a gradually auger lane where further manure separation can take place. The remaining mixture of water and manure/fibers (which is virtually free of sand) is then separated in a manure separator. This results in a total sand recovery of 98%.

PHASE 3: The remaining water flows into the settling pit, after which it can be reused for the sand washing process.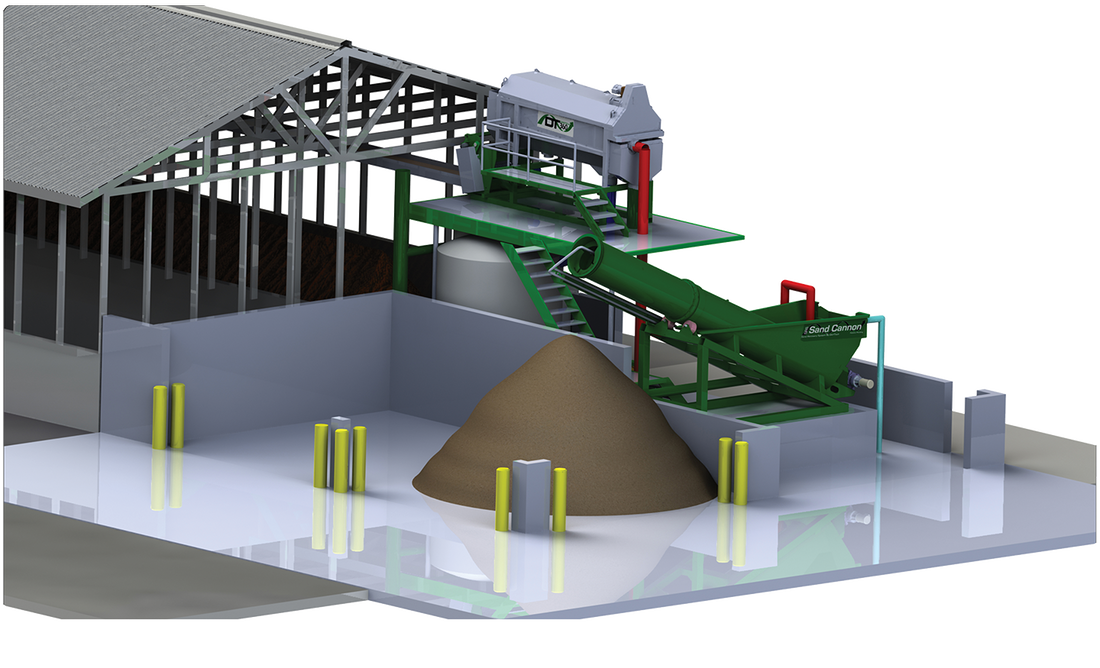 More information?
Would you like more information about the Sand Cannon and the benefits the system can bring to your business? Enter your details below without obligation!